Complaints
Please check the intactness of the packaging on delivery as well as the contents by comparing quality and quantity of the goods with the items as specified in the delivery note.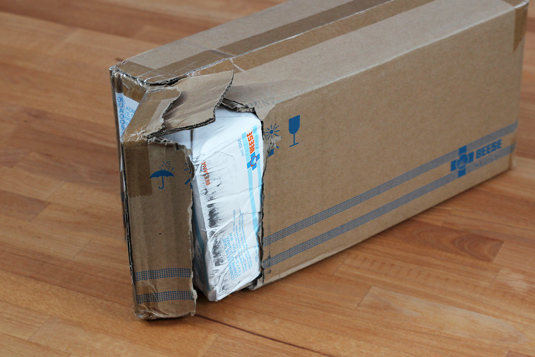 Any damage or loss during shipment should be entered into the consignment note / the way-bill before you accept the delivery. If necessary, take a photo.
Please let us know immediately by phone, fax, or e-mail if parcels are missing or have been damaged.
Any hidden damages must be reported and claimed without undue delay, but as a rule within 24 hours after receipt.
Therefore, please unpack and check your goods on the day of delivery.
For details about deadlines and procedures, see "How to deal with damages?"
How to deal with damages?
All MarMed consignments are insured against damages in transit. Any damage will have to be reported to the haulage contractor in written form upon receipt of the goods (notation on the freight documents or the delivery note of the parcel service). Please observe the directions given below. In most cases it will not be possible to settle damages that are reported late.
Procedure:
Should your consignment give you reasons for complaint that are transport-related, you will sustain your claim to damages by observing the following hints:
In the case of damages due to transport by mail, rail, road, air and sea, a representative of the carrier must be duly called in for claim assessment.
In the case of loss or visible exterior damage:
In a case of loss or of damages that are visible from the outside, the damage must be attested by a representative of the carrier in the form of a note to the freight documents before acceptance of the goods. In the case of transport by rail, an additional factual report by the carrier must be requested. Damages to consignments sent by mail must be attested in writing by the Post Office (representative) before acceptance of the damaged item.
In the case of damages that are not immediately visible:
If a damage is not immediately recognizable, i.e. will only be found after unpacking, the consignment must be left as it was upon recognition of the damage. A representative of the carrier must be requested in writing to inspect the consignment. The deadlines for notification of the carrier are:
- Mail, DHL, DPD, UPS, GLS:
without delay (24 hours at the latest) after delivery;
- Rail:
within 7 days after delivery;
- Transport via road or rail by haulage (contracting) company:
within 4 days after transportation company's delivery;
- Air and sea:
within 7 days after arrival of the consignment at buyer's address.